CHEVAL HYDE PARK GATE
TWO LUXURY THREE-BEDROOM APARTMENTS AVAILABLE IMMEDIATELY FOR STAYS OF 90 DAYS OR MORE
Rates – from £5500 per week + VAT
Cheval Hyde Park Gate is without doubt a landmark residence of style and distinction. These fully serviced apartments offer quality, elegance, comfort and security. Within easy reach of High Street Kensington, Knightsbridge and the West End, its position affords access to many of the capitals attractions.
Built in 1864 and still containing many of its original features, Cheval Hyde Park Gate comprises three Victorian houses overlooking Kensington Gardens and with The Royal Albert Hall as its near neighbour. During the four-year restoration of the property (which was overseen by English Heritage), meticulous attention was paid to every detail of this fine building, from the reproduction of original floor tiles and intricate plaster mouldings, to the selection of period furnishing.
On arrival in the grand reception area, guests are greeted with a sweeping staircase leading to each individual floor. The apartments themselves are impressive, some boasting double doors leading into traditional reception areas. Featuring living rooms with high ceilings, large dining rooms for up to 12 guests and separate libraries, floor to ceiling windows, beautiful chandeliers and individually chosen artwork,  Cheval Hyde Park Gate offers a taste of the bygone era. All of the apartments contain fully equipped kitchens with two sets of china, cutlery and glassware – one for everyday use, one for fine dining.
Service & Amenities
* 24 hour Concierge, Reception and Security.
* Maid Service (Mon-Fri)
* Maintenance & On-site Management
* Fully Furnished Apartments / Fully Equipped Kitchens
* Free WiFi
* Fitness Suite
* Satellite TV
* Air-Conditioning
* Towels changed twice weekly
* Bed linen changed weekly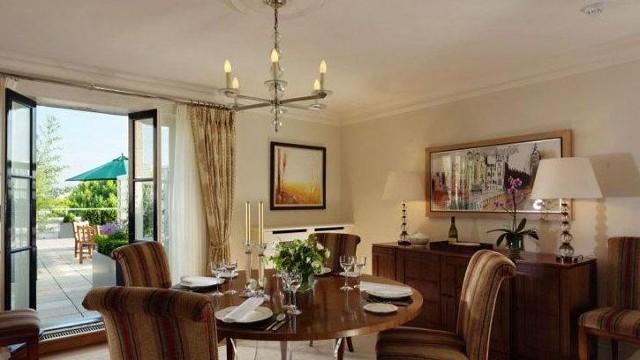 Contact J&K Apartments today on +44(0)1797 253 823 or enquire@jandkapartments.com